For those readers returning to our site and looking for the Castle bothers' next adventure, we are proud to report that the new wrestling magazine, YOUTH WRESTLING NEWS (published by AMATEUR WRESTLING NEWS) will begin carrying a story about the characters from TO BE THE BEST each month. To learn more about this expansion of the TO BE THE BEST universe, click here.


What began as a "must read" series for Wrestlers and High School and Junior High Boys quickly crossed over to multiple age groups due to its universal themes. Teachers quickly gravitated to the original book due in particular to its appeal among teenagers and now have free teaching materials available to them. In addition, scholarships are being given as a way to give back to loyal followers.



To view the history of the series, see our new Facebook timeline (and please be sure to "Like" us).


TO BE THE BEST is a series focusing on two seasons of the Riverside High School wrestling team and follows the journeys of two brothers in particular. Ron Castle is the older brother and a naturally gifted wrestler. He made it all the way to the state title match as a sophomore. Nick, Ron's younger brother, lacks Ron's raw talent but has a ton of heart and works hard day in and day out in pursuit of his dream of becoming a state champion.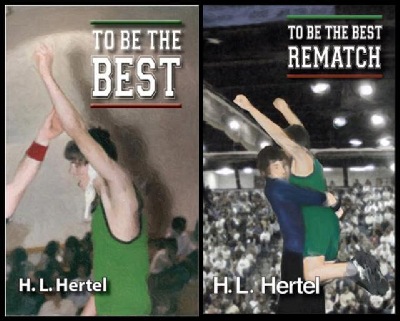 According to TheOpenMat.com, "Hertel does an excellent job of capturing the essence of what our sport is about and how our sport is more about overcoming obstacles than anything else. The story looks at how some wrestlers are athletically gifted, while others are not. It shows how hard work and dedication can help overcome deficiencies; all in all it shows what wrestling is."

Wrestlers in Business says "H.L. has put together a good representation of what the sport of wrestling brings to the table for its participants. It shows us how discipline, competition, and dedication can overcome any obstacle. It's a great read and well worth your time."

Although the books were originally written for high school wrestlers / readers, they have also gotten positive feedback from readers who don't know a takedown from a touchdown. Similar to the way movies like Rudy appeal to people who don't know anything about football; the books have received rave reviews from readers of varying ages and backgrounds who enjoy a good "pursue your dreams" story.

Both books are available in both Kindle and traditional paper formats everywhere books are sold. A FREE download of the first book's opening is available on this site. To purchase your copy from Amazon.com, click here.

If you are not familiar with our company and your first contact with us is online, we would be pleased to hear from you! Please let us know what your needs and questions are via the e-mail or PO Box address on our "About Us" page, we will be more than happy to help.